Owning a home is the dream of so many people in Roseburg, but how much does it cost to buy a house? In this post, I'll explain some of the customary closing costs and fees you can expect when purchasing a home.
For this example, I will show you how much it would cost to buy a house using a hypothetical loan amount of $250,000 with 1% origination fee.
How Much Does It Cost To Buy A House In Roseburg?
Chances are, if you have talked to a lender to get pre-qualified for a mortgage, you heard about some of the customary closing costs associated with the loan.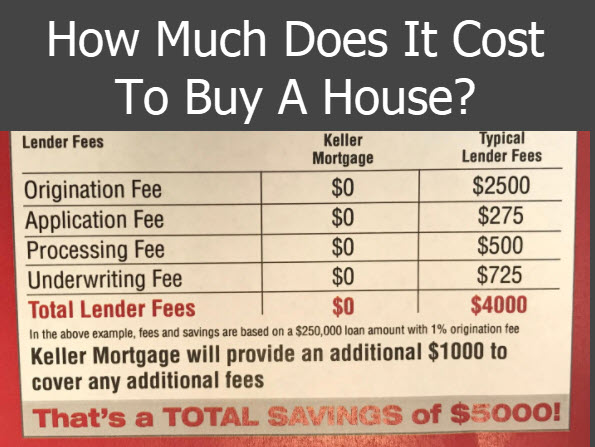 Based on the loan amount of $250,000 (as described above), the customary loan charges would look something like this:
Origination Fee: $2500
Application Fee: $275
Processing Fee: $500
Underwriting Fee: $725
In this scenario, the total lender fees would be $4,000. Honestly, this is probably lower than the average cost to buy a house in Roseburg. It is not uncommon to see the buyer's side closing cost/fees run between 2-3% of the purchase price.
How Closing Costs Get Paid.
There are really only three ways to cover the closing costs:
Buyer pays their own closing costs. (Great option if buyer has funds to pay down payment and closing costs.
Buyer asks the seller to pay the closing costs. (Less price negotiation – higher price to pay for closing costs.)
Buyer gets a no-cost ZeroPlus Keller Mortgage. (exclusively for Keller Williams Realty clients)
Typically, home buyers who pay their own customary closing costs, and buyers who get a no-cost loan end up getting a better price on the home than buyers who ask the seller's to pay their closing costs.
If possible, take option 2 or 3, and see if your real estate broker might be able to haggle on price for you.
Get The Best Price And Eliminate Your Closing Costs.
When buying a house in Roseburg, the first step should be pre-qualification… yes, even before looking at homes!
One of the first documents you will get from your lender will break down the lender fees, charges, and cost. At this point, you will know how much it will cost to buy a house.
Get the best price: It should be obvious, sellers are more willing to negotiate the price if they aren't being asked to pay additional costs and fees for the buyer.
It is very difficult to get home sellers to pay for the buyer's closing costs AND negotiate the price. It is usually one or the other.
Eliminate your closing costs. The best option for Roseburg area home buyers, in my opinion, is the ZeroPlus mortage through Keller Mortgage. (Zero"Plus" because they give you $1000 credit at close)
With this option, your cost to buy a house goes way down because they actually eliminate the origination, application, processing, and underwriting fees, and that gives you more options.
Besides, it is always a good idea to talk with two or three lenders, just to compare rates and charges.
Skip The Fees
Getting pre-approved for a Keller Mortgage is easy, and can be initialted through my mobile app.
Just text "kw2y02tdb" to 87778.
Here are some screenshots if needed.
Regardless where you get your mortgage loan, I would love to help you make your next move. Let's talk. Just give me a call, text, or email.
How much does it cost to buy a house in Roseburg OR? Well, for the first time, it is completely up to you. It could be a lot… or it could be zero if you decide to go with a no-cost mortgage through Keller Mortgage.
Happy house hunting!